From Germany to the United States, some of the angriest reactions to demonstrators are from older citizens.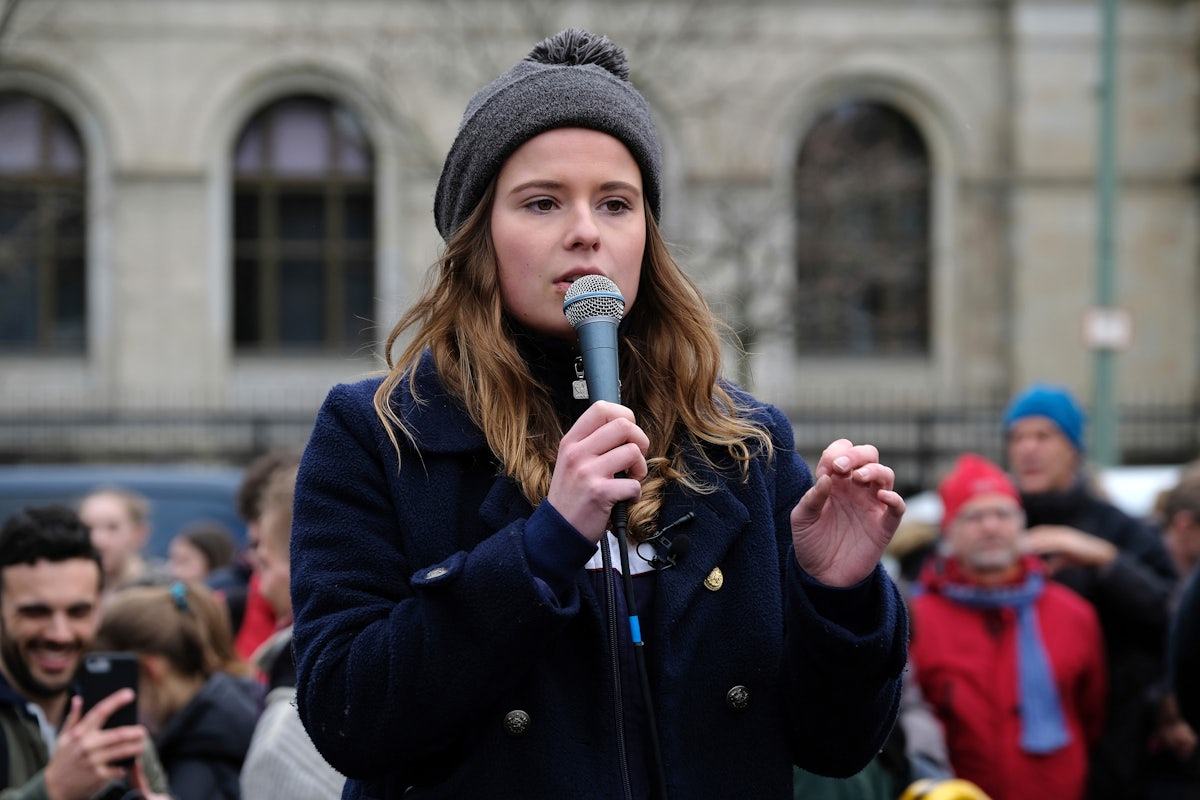 Activist Luisa Neubauer at a Berlin FridaysforFuture protest (Sean Gallup/Getty Images)
Fourteen-year-old Franzi, who helps organize the climate-oriented Fridays for Future marches in Berlin, prefers angry responses from onlookers—like the father who shouted "fuck you" at a Munich demonstration blocking traffic in front of a school last month. "It shows that people are scared," she said. Now, after complaints, the kids have to protest peacefully on the side of the road under police supervision and the same father flashes them a thumbs up whenever he drives by.
In October 2018, the Intergovernmental Panel on Climate Change published a report estimating that the world has 12 more years to radically reduce carbon emissions in order to avoid climate catastrophe. Since then, inspired partly by ninth-grade Swedish activist Greta Thunberg, who in early fall 2018 skipped school to protest climate change outside the Swedish parliament, European-led climate protest movements Fridays for Future, Youth Strike 4 Climate, and Extinction Rebellion have gained traction, spreading across continents and oceans, and motivating ever-more people to disruptive nonviolent protest such as skipping school or blocking the roads. On March 15, it resulted in a climate strike featuring young activists in some 112 countries.
While headlines jump between Donald Trump and Brexit, these protests are designed to inconvenience, to force people to confront the current scientific research, and to offer a voice to children who can't yet vote, but who will soon pay the price for climate inaction.
The language of the father that day in Munich is symptomatic of the increasingly frank—and frustrated—rhetoric around the issue. "If we don't respond to this crisis as if it's an emergency now, we are (very nearly) totally fucked," British activist Liam Geary Baulch wrote to me via email.
Governments, so far, have not responded with similar urgency. In the face of an estimated 30,000 student protesters, including Franzi, across Germany in January, the German government's coal commission still only agreed to quit coal by 2038—a date activists say violates Paris Agreement targets by being too far in the future. And while, in the United States, ambitious proposals such as the Green New Deal grow ever more prominent, they seem no nearer to being passed into law. MORE