Odds for RCMP probe rising, says former top aide to BC Liberal premier.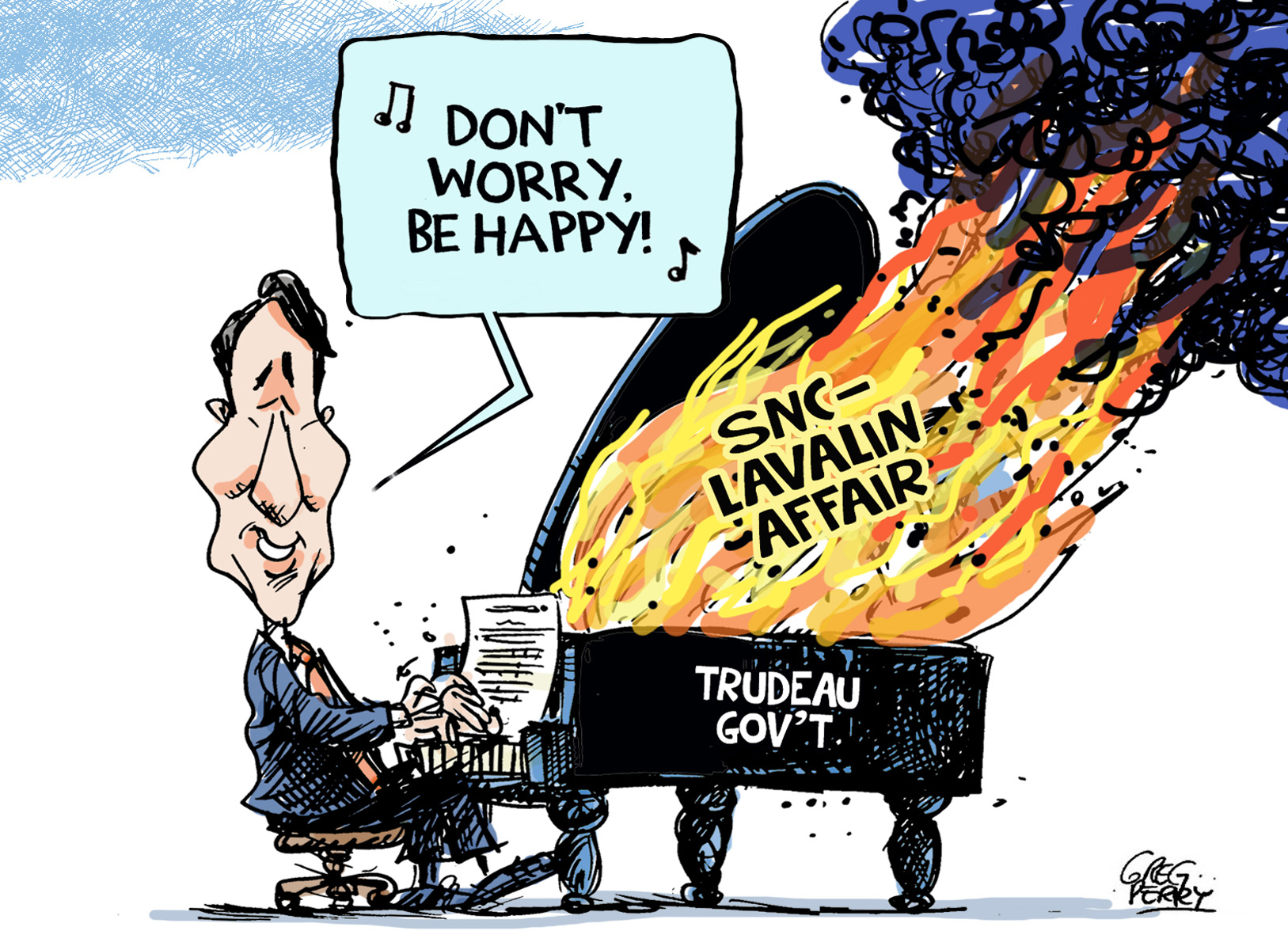 Cartoon by Greg Perry.
On Friday, Conservative House Leader Candice Bergen offered some advice to Prime Minister Justin Trudeau that he is likely to ignore. Let Jody Wilson-Raybould have her (additional) say. Stop muzzling her with cabinet confidence and solicitor-client privilege. Waive it.
"The longer he continues this cover-up," Bergen said of Trudeau, "the longer he moves heaven and earth to keep himself protected, the worse this gets for him."
Does it get worse? Or will Canadians tire of the saga and move on, as the Liberals this week bet by moving to shut down the inquiry?
Martyn Brown, who as premier Gordon Campbell's chief of staff handled scandals buffeting the B.C. government during the 2000s, thinks that this week Trudeau has moved closer to the brink of disaster. The heightened prospect of an RCMP investigation makes Trudeau an anchor sinking the party he once rescued with his leadership.
Now, says Brown, it's time for Liberal insiders to convince Trudeau to step down.
But the biggest bombshell, in Brown's view, was dropped by former Treasury Board president Jane Philpott, Trudeau's other cabinet minister to resign in dismay over LavScam.
What Philpott had to say in her interview with Maclean's magazine on March 21 proves she'd "gone rogue," says Brown.
"I'm not accusing anybody of anything illegal or contrary to the Criminal Code," emphasizes Brown. But Philpott raised enough questions to possibly prod the RCMP to launch an investigation, and that would mean a severe hit to Trudeau's political fortunes. MORE
RELATED:
If the RCMP end up taking over the investigation of the SNC-Lavalin scandal, as it increasingly looks like they should, the prime minister will have no one to blame but himself.