The resources Democrats want Washington to appropriate and use domestically instead need to flow elsewhere in the world.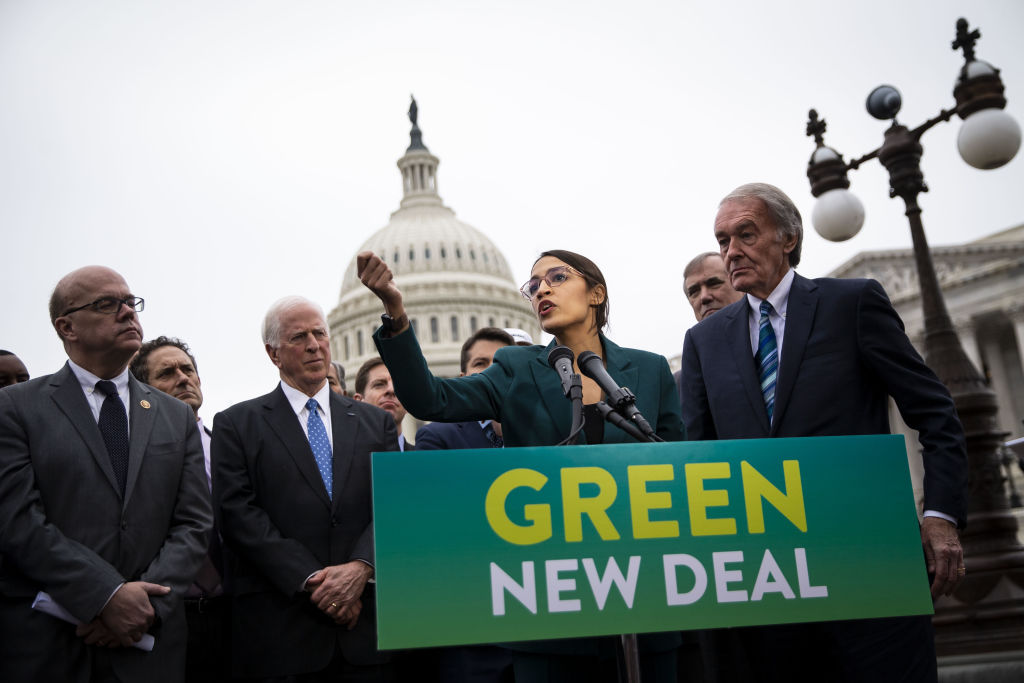 Democratic Rep. Alexandria Ocasio-Cortez has led the charge.  Photographer: Al Drago/Bloomberg
At the fourth United Nations Environment Assembly in Kenya this past week, experts and officials from around the world debated how to come up with the investment and innovation needed for countries to grow without dooming the planet. National leaders, NGOs and others discussed, among other things, how to create more "sustainable patterns of consumption and production." What really struck me in Nairobi, though, was what wasn't discussed: the Green New Deal being pushed by Democratic Party politicians in the U.S.
This is surprising, in a way: It was the United Nations Environment Programme that first called for a "Global Green New Deal" in 2009, hoping to revive the world economy through investment in climate change-related sectors
That extra word, "global," suggests why international players today aren't terribly enthused by the Democrats' plan. The program — or what little of it can be adduced from what's now largely a slogan — is focused entirely on green investment in the U.S. The basic notion that climate change is a global problem that requires a global solution seems to have been forgotten.
Don't get me wrong: De-carbonizing the U.S. economy would be a big deal. A lot of good work can be and is being done. The Beyond Coal campaign supported by former New York City Mayor Michael Bloomberg (the founder and majority owner of Bloomberg LP, parent of Bloomberg News) has already helped shut down 285 of the country's 500-plus coal-fired power plants and is aiming to close the rest by 2030. And getting climate change back onto the political agenda is important in and of itself. Nor should Republicans be allowed to use concerns about the growth of emissions in the developing world to stymie work on carbon mitigation at home.
Yet, fawning coverage of the Green New Deal rubs many in the developing world the wrong way. We've long known that an economy transitioning to a low-carbon growth path will both require investment and create jobs. But, the New Deal of the 1930s is simply not the right analogy. Then, economies across the world had enormous amounts of unused capacity that just needed to be put to work.
By contrast, a global low-carbon transition will require laying claim to resources that are productively employed in carbon-intensive sectors of the economy. It will be expensive. It will require sacrifice. And resources will need to flow more freely across national borders. MORE
RELATED: