Here's why these young climate activists are striking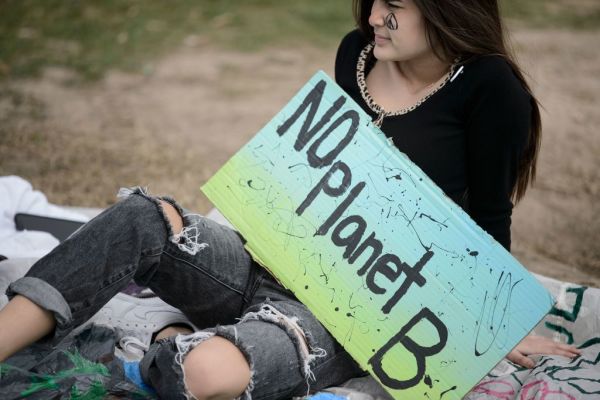 An activist sits during a youth climate rally on the west front of the US Capitol on March 15, 2019 in Washington, DC. BRENDAN SMIALOWSKI/AFP/Getty Images
Young climate activists are hoping to spark a widespread dialogue about climate change, following in the footsteps of their peers in Parkland, Florida, who led a national conversation about gun control after a mass shooting at their school.
And they're concerned about the inaction on this front.
World leaders only have 11 more years to avoid disastrous levels of global warming, according to a 2018 report from the UN Intergovernmental Panel on Climate Change (IPCC).
If human-generated greenhouse gas emissions continue at the current rate, the planet will reach 1.5 degrees Celsius above pre-industrial levels as soon as 2030. That threshold is critical.
Global warming at that temperature would put the planet at a greater risk of events like extreme drought, wildfires, floods and food shortages for hundreds of millions of people, according to the IPCC report.
What they want: The common demand among students, although they vary country-to-country, is for the reduction of greenhouse gas emissions.
Here's what that agenda includes for kids in the US, according to the Youth Climate Strike website:
a national embrace of the Green New Deal
an end to fossil fuel infrastructure projects
a national emergency declaration on climate change
mandatory education on climate change and its effects from K-8
a clean water supply
preservation of public lands and wildlife
all government decisions to be tied to scientific research