Yale researchers say 81% of voters they polled support a Green New Deal to create jobs and work toward renewable energy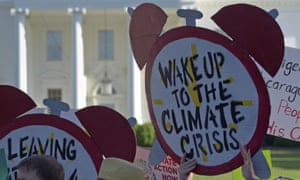 Climate protesters gather outside the White House. Photograph: Susan Walsh/Associated Press
For years, American democracy has been gripped by a conspiracy to undermine and deny the scientific truth of climate change. Fossil fuel corporations like ExxonMobil and Koch Industries have waged a decades-long campaign to mislead the public about the environmental costs of their business activities and co-opt the rightwing governing party.
Denial is ascendant and bipartisanship is dead, but the conservative party has painted itself into a corner that, in the long term, will be economically, ecologically and politically untenable. Democrats have an unprecedented opportunity to own the issue and lead.
Enter the Green New Deal, the first Democratic policy built for the post-Recession age of climate crisis, polarization and wonky leftism.
This month, Representative Alexandria Ocasio-Cortez of New York and Senator Ed Markey of Massachusetts introduced a resolution outlining the vision, goals and projects of a Green New Deal. The resolution was sponsored by 68 representatives and 11 senators, including all seven Democratic presidential contenders in Congress: Cory Booker, Kirsten Gillibrand, Kamala Harris, Amy Klobuchar, Jeff Merkley, Bernie Sanders and Elizabeth Warren.
Many, including the editorial boards of the New York Times and Washington Post, criticized the resolution for including flashy non-emissions policies like Medicare for All and a federal jobs guarantee. Writing in the Atlantic, Robinson Meyer caricatured the 14-page document as "a binder of climate policies duct-taped to an Easter basket of socialist goodies". But the reasoning behind including a broad slate of programs in the proposal is sound: leverage the federal government to spur public and private investments and meet climate targets, create millions of green jobs while modernizing infrastructure and leveling the playing field so that everyone – particularly communities of color, women and working families – can participate in a new economy. MORE
RELATED: